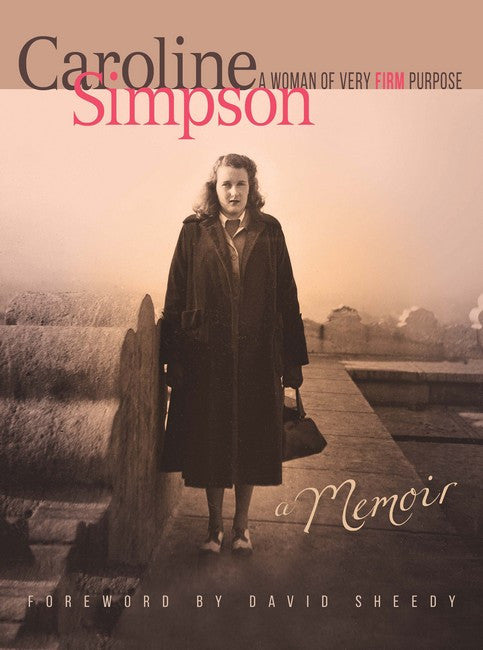 Woodslane
Caroline Simpson: A woman of very firm purpose. A memoir
By all accounts, Caroline Simpson was an extraordinary woman.
Born into Australia's famous Fairfax family, she grew up enjoying considerable privilege yet also endured deep heartache. Over time, however, Caroline forged her own unique place in Sydney's history, becoming a champion behind many National Trust and other heritage projects and publications, as well as creating the fabulous Clyde Bank 'house museum'. 
Behind the scenes – often unknown to the general public – Caroline also became one of Australia's great philanthropists, supporting a wide range of causes and individuals. 
Caroline Simpson was an enigmatic figure. To some she appeared fearsome, an individual with an acerbic tongue who barged through projects and made sure she got her own way. But to many others she was a profoundly inspirational figure, a hard worker who knew how to achieve great and worthwhile objectives. She was known to be deeply loyal to her friends, and her acts of generosity and thoughtfulness – as a private individual, a friend and a grandmother – became legendary among those who knew her best. 
In this beautifully produced book, Caroline's daughter Louise joins with researcher Michael Collins to gather together the memories of some thirty interviewees. The result is a wonderfully inspiring collection celebrating the life of Caroline Simpson OAM through the eyes of family, friends and associates. Complemented by many photographs and by reproductions of artworks from Caroline's personal collection, this is a portrait of a resolute, passionate, never-to-be-forgotten personality from Sydney's recent history, a woman who overcame so much to achieve so much more.
The Caroline Simpson Library & Research Collection was established in 1984 and renamed in 2004 in honour of Caroline Simpson OAM (1930-2003), after her outstanding collection of Australian colonial furniture, pictures and objets d'art was donated to the Historic Houses Trust of NSW (now Museums of History NSW) and an endowment established in her memory.
Michael Collins 
Published February 2017
Paperback
262 pages
223mm x 171mm
ISBN 9780646961316
---
Share this Product
---
More from this collection