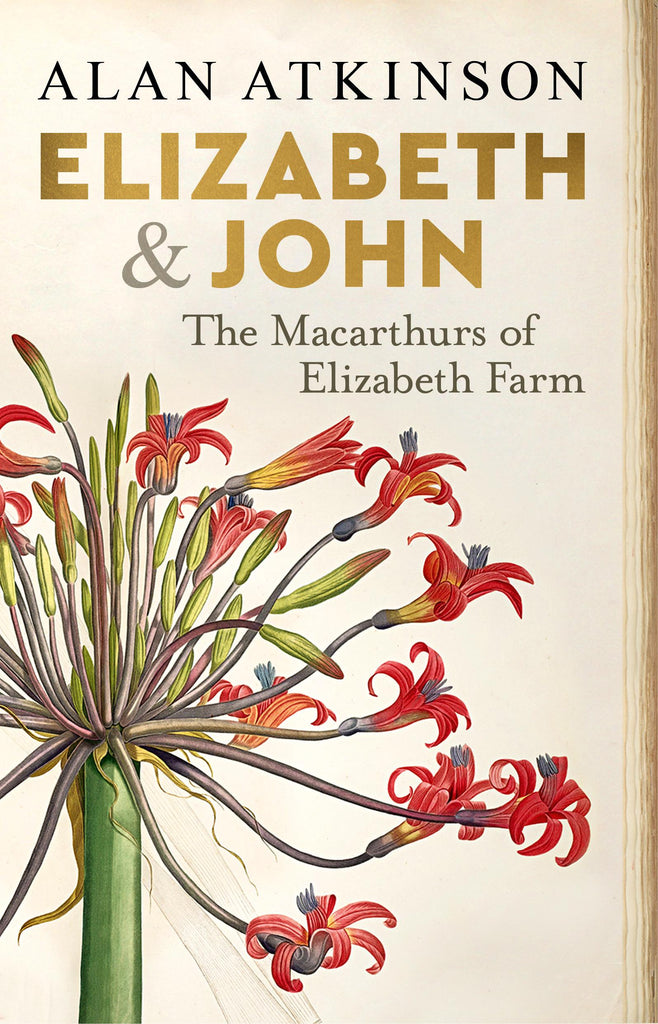 NewSouth Books
Elizabeth and John: The Macarthurs of Elizabeth Farm
A landmark and revealing joint biography of Elizabeth and John Macarthur, from one of Australia's most respected historians.
** Winner, 2023 Ernest Scott Prize **
** Winner, 2023 NSW Premier's History Awards, Australian History Prize **
Elizabeth and John Macarthur were the first married couple to travel voluntarily from Europe to Australia, arriving in 1790, both aged 23, within three years of the initial invasion. John Macarthur soon became famous in New South Wales and beyond as a wool pioneer, a politician, and a builder of farms at Parramatta and Camden. For a long time, Elizabeth's life was regarded as contingent on John's and, more recently, John's on Elizabeth's.
In Elizabeth and John, Alan Atkinson, the prizewinning author of The Europeans in Australia, draws on his work on the Macarthur family over 50 years to explore the dynamics of their strong and sinewy marriage, and family life across two generations. With the truth of Elizabeth and John Macarthur's relationship much more complex and deeply human than other writers have suggested, Atkinson provides a finely drawn portrait of a powerful partnership.
'Based on fifty years of research and reflection by one of this country's most original and creative scholars and finest writers, here is the story of the world made by settler Australia's greatest family, the Macarthurs. No Australian historian has ever explored the inner lives of a married couple, their family and their milieu with such skill, passion and intensity. No one has brought to any subject in Australian history deeper insight into dreams, ambitions and tragedy that the British occupation of this continent entailed. Elizabeth and John is a stunning achievement by one of Australia's greatest ever historians.' — Frank Bongiorno
'Through this remarkable study of two key figures in the history of early colonial New South Wales and especially of their marriage, Alan Atkinson here conducts a master class in connecting the personal, the intimate and the local with worldwide processes of colonisation, migration and capitalist expansion. In his capacious historical vision, family life and connections in all their complexity become the thread that holds colonial history, and perhaps history generally, together.' — Ann Curthoys
'This magisterial work takes us into a captivating world of nineteenth century Australia through a compelling, eloquent, and beautifully drawn study of the remarkable lives of John and Elizabeth Macarthur.' — Joy Damousi
'Nobody sees as far into the minds and hearts of the early Australian colonists as Alan Atkinson. In this fascinating double-portrait, based on a lifetime's research, he reveals Australia's first power-couple as never before: together and apart; as they saw themselves and as they were seen by their friends and enemies; at the apex of a fast-developing colony and at the far edge of global networks of family affection, commercial ambition and imperial power. A tour de force of scholarship, imagination, and literary power.' — Graeme Davison
'With trademark lyricism, Alan Atkinson builds a rich and moving picture of the social, intellectual and material world of the Macarthurs. Elizabeth and John transforms our understanding of early New South Wales and two of its most significant figures.' — Lisa Ford
'The Macarthurs have long been the subjects of caricature, even wilful distortion. In this superb book, Alan Atkinson has restored their humanity, exploring their characters, their relationships between themselves and with others, the ideas and influences that shaped them and how they in turn helped shape colonial Australia. This is history at its best, based on vast research and deep understanding.' — Stephen Foster
'Enthralling and powerful. Alan Atkinson writes with the easy, lyrical elegance that comes of deep historical understanding and fine, slow history. In Elizabeth and John he weaves together the lives of the Macarthurs with the life of the mind, and brilliantly navigates the mysterious mirror maze between them.' — Grace Karskens
'Elizabeth and John is a truly amazing work of history. A triumph. This is historical scholarship at its dazzling best. Beautifully produced and written, Alan Atkinson's intimate portrait of Elizabeth and John Macarthur's marriage also opens windows on to the wider worlds of nineteenth century England, the European Enlightenment and early New South Wales during the years of the British invasion and occupation. Attentive to his subjects' inner selves and sensibilities and the imperatives of an imperial and patriarchal order, Atkinson's book is truly a tour de force.' — Marilyn Lake
'At once intimate and epic, inspired and deeply compassionate, this is the kind of book that can only come from a lifetime of close reading. Meticulously researched, imaginatively conceived and breathtaking in its ability to retrieve past worlds — both private and public. An exceptional work of biography and history written by one of Australia's most original historians.' — Mark McKenna
'Against the clamour and rancour of modern 'history wars', Atkinson gives us exactly the type of story we need right now — nuanced, poetic and intellectually graceful. He lures us, dreamlike, into the complex thoughts and feelings of people who mattered, and allows us to visit the world they inhabited. Atkinson's style and sensibility is a refreshing reminder of how we might sincerely assess the great men and women of the past, instead of tearing down their statues, or even building them in the first place.' — David Roberts
'Elizabeth and John presents a new way of understanding Australian cultural history. It rereads the lives of its subjects against the wealth of primary source material now available online. The result gently requests a reappraisal of Australian colonial society.' — Marian Quartly
'As with a novel, I found myself wondering what the characters were doing while I was away from the book.' — Inside Story
'Professor Atkinson's portrait is intimate and affectionate. It reads well while maintaining the highest standards of academic rigour.' — Steve Evans
'Atkinson cares equally about the history of ideas as he does about the Macarthurs and these two preoccupations produce a book delightfully dizzying in breadth and scope. This is a history that soars and swoops between mammoth global processes and exquisitely personal sentiments.' — Alecia Simmonds, Sydney Morning Herald/The Age
'This was evidently a labour of love and a fascination for Atkinson. The reader is treated to such a detailed level of knowledge and understanding that one could easily think Atkinson knew Elizabeth and John, personally. Possibly, after all his research, Atkinson felt he did.' — Bianca Stringa, Hearsay
Alan Atkinson
Published November 2022
Paperback
544 pages 
230mm x 155mm
ISBN 9781742237565
---
Share this Product
---
More from this collection