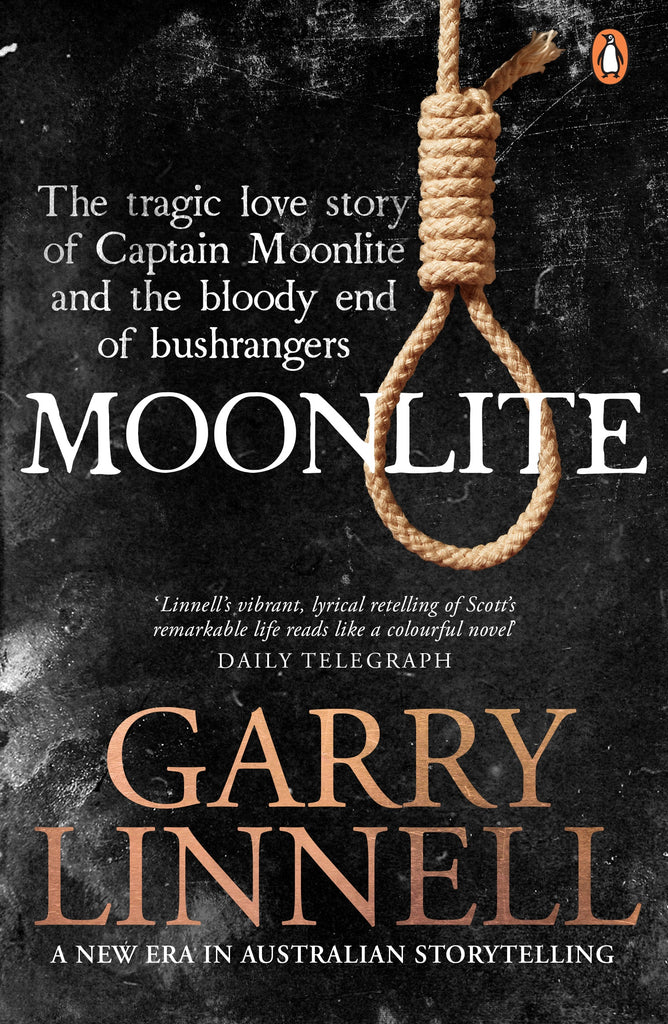 Penguin
Moonlite
The tragic love story of Captain Moonlite and the bloody end of the bushrangers
A gay bushranger with a love of poetry and guns. A grotesque hangman with a passion for flowers and gardening.

A broken young man desperate for love and respect. These men – two of them lovers – are about to bring the era of Australia's outlaws to a torrid and bloody climax. Moonlite is the true and epic story of George Scott, an Irish-born preacher who becomes, along with Ned Kelly, one of the nation's most notorious and celebrated criminals.
"Linnell recounts with gusto Scott's early forays in the Pacific and leads the reader into tales of his robbery in the goldfields, capture, escape, recapture and then prison romance." The Canberra Times
Charismatic, intelligent and handsome, George Scott was born into a privileged life in famine-wracked Ireland. His family lost its fortune and fled to New Zealand. There, Scott joins the local militia and after recovering from gunshot wounds, sails to Australia.
One night he dons a mask in a small country town, arms himself with a gun and, dubbing himself Captain Moonlite, brazenly robs a bank before staging one of the country's most audacious jailbreaks. After falling in love with fellow prisoner James Nesbitt, a boyish petty criminal desperately searching for a father figure, Scott finds himself unable to shrug off his criminal past. Pursued and harassed by the police, he stages a dramatic siege and prepares for a final showdown with the law – and a macabre executioner without a nose.
Told at a cracking pace, and based on many of the extensive letters Scott wrote from his death cell, Moonlite is set amid the violent and sexually-repressed era of Australia in the second half of the 19th century.
About the author
Garry Linnell is one of Australia's most experienced journalists. Born and raised in Geelong, he has won several awards for his writing, including a Walkley for best feature writing. He has been editor-in-chief of The Bulletin, editor of The Daily Telegraph, director of news and current affairs for the Nine Network and editorial director of Fairfax. He spent four years as co-host of the Breakfast Show on 2UE and is also the author of four previous books - including the bestselling Buckley's Chance.
Garry Linnell
Published September 2021
Paperback
336 Pages
198mm x 130mm 
ISBN 9780143795780
---
Share this Product
---
More from this collection