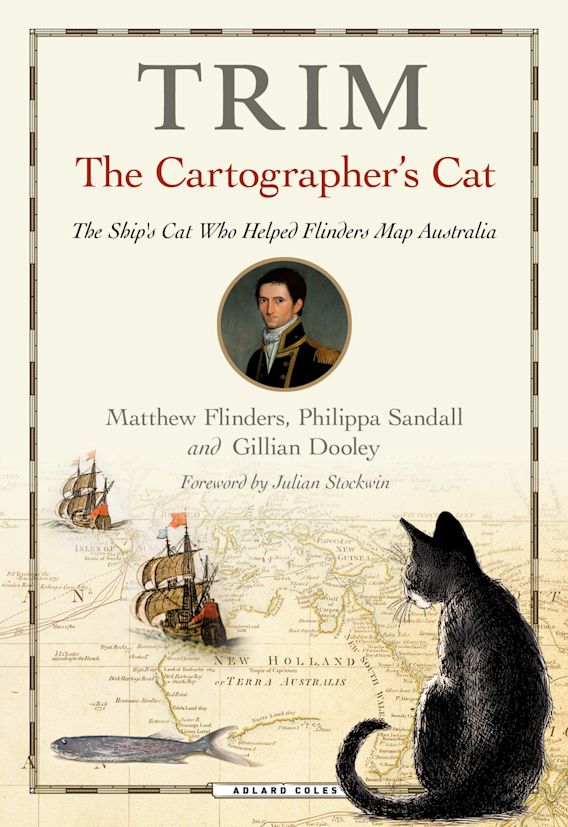 Bloomsbury
Trim, the Cartographer's Cat
Not many ships' cats have even one memorial statue, let alone six. But Trim does, including one outside Euston Station in London, proudly unveiled by Prince William on the bicentenary of Matthew Flinders's death – 19 July 2014.
Trim was the ship's cat who accompanied Matthew Flinders on his voyages to circumnavigate and map the coastline of Australia from 1801 to 1803. He lived quite the adventurous life. As a small kitten he fell overboard while at sea but managed to swim back to the vessel and climb back on board by scaling a rope. This cemented his position as Flinders's beloved companion, and together they survived a Pacific voyage, the circumnavigation of Australia and a shipwreck. When Flinders was imprisoned by the French in Mauritius in 1803 Trim shared his captivity until one day he mysteriously disappeared – which heartbreakingly Flinders attributed to his being stolen and eaten by a hungry slave.

Trim, The Cartographer's Cat is an ode to this much-loved ship's cat, which will warm the heart of any cat lover. The first part of the book reproduces Flinders' own whimsical tribute to Trim, written while in captivity in the early 1800s, with added 'friendly footnotes' to provide some background to Flinders's numerous literary allusions and nautical terms. Next the book discusses where Flinders was when he wrote his tribute and why, and what his letters and journals from that time tell us about his 'sporting, affectionate and useful companion'. Finally, we learn what Trim's views on all of this might have been, in a fun and fanciful observation on his premature epitaph.

Accompanying all of this are beautiful maps, historical photographs, quirky original illustrations by illustrator Ad Long and excerpts from Flinders' original script, showing his beautiful handwriting. This book will make a unique and treasured gift for Flinders fans, Trim fans and cat lovers around the world.
Matthew Flinders, Gillian Dooley, Philippa Sandall
Published October 2019
Hardcover
128 pages 
188mm x 136mm
ISBN 9781472967220
---
Share this Product
---
More from this collection