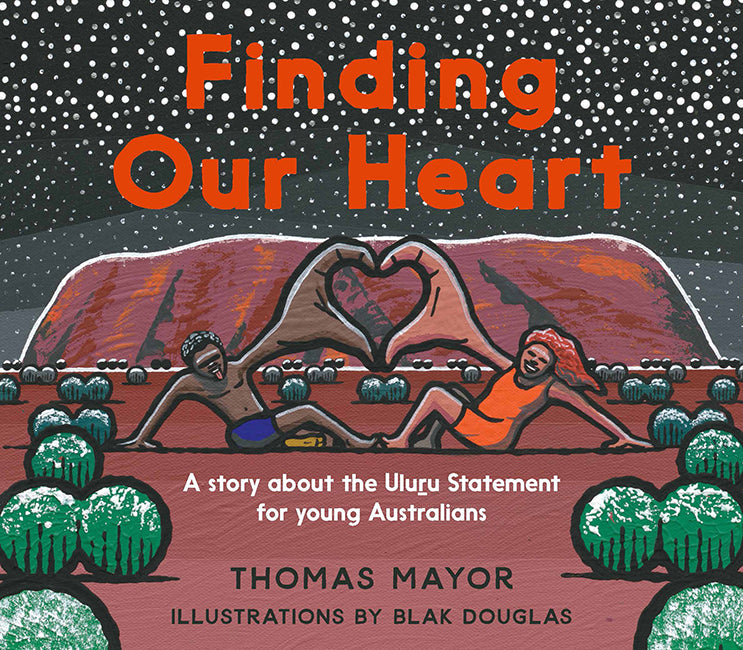 Hardie Grant
Finding Our Heart A Story about the Uluru Statement for Young Australians
 A Story about the Uluru Statement for Young Australians
'When we all came together at Uluru, we invited all Australian people to accept our voice and culture as a gift.'

Can you help us find the heart of the nation?

A book about understanding Australia's past, so we can have a shared future.
For Ages: 5 - 10 years old 
About the author
Thomas Mayor is a Torres Strait Islander man born on Larrakia country in Darwin. 
Having gained skills in negotiation and organising in the union movement, he applied those skills to advancing the rights of Indigenous peoples, becoming a signatory to the Uluru Statement from the Heart and a tireless campaigner. Following the Uluru Convention, Thomas was entrusted to carry the sacred canvas of the Uluru Statement from the Heart. He then embarked on an eighteen-month journey around the country to garner support for a constitutionally enshrined First Nations voice, and a Makarrata Commission for truth-telling and agreement-making or treaties. Thomas's journey continues, both in person and through the pages of this book. The book is his gift to the campaign for Voice, Treaty and Truth. Like the Uluru Statement from the Heart, he hopes that all Australians will accept it.
Born Adam Douglas Hill to an Aboriginal father of the Dhungutti people and an Irish-Australian mother, Blak Douglas lives and works in the Sydney suburb of Redfern. He is trained in illustration and photography, and became a self–taught painter. His artistic style is influenced by the study of graphic design and his focus on social justice. His works have appeared at the National Gallery of Australia, the Art Gallery of NSW, and the Museum of Sydney.
Thomas Mayor, Blak Douglas (illustrator)
Published June 2020
Hardcover
40 pages
250mm x 290mm
ISBN 9781741177176
---
Share this Product
---
More from this collection