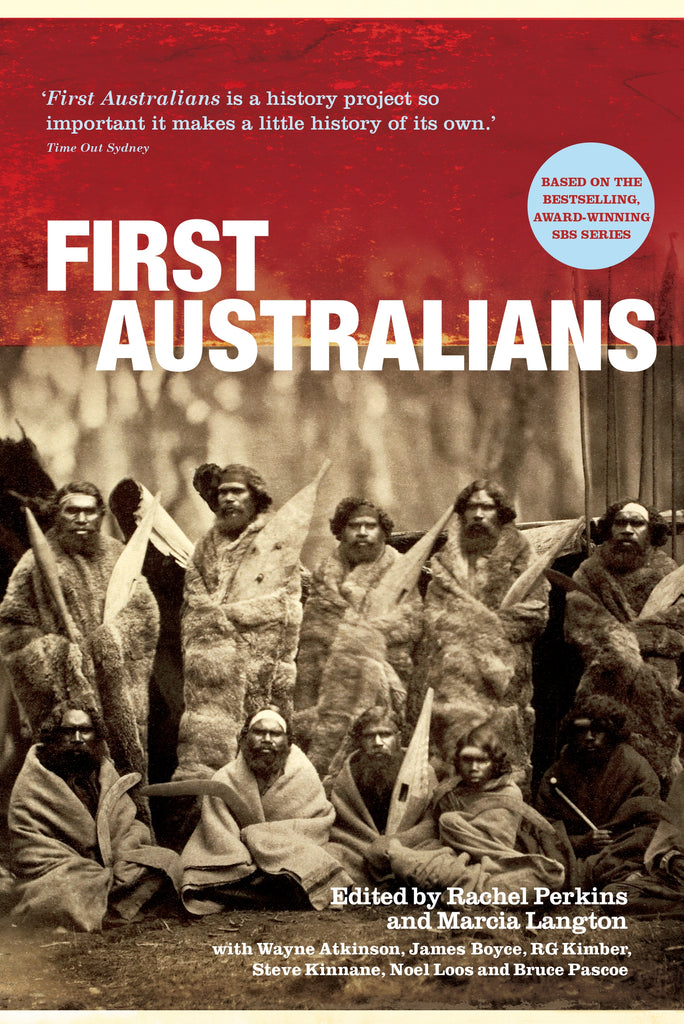 The Miegunyah Press
First Australians
The companion book to the epic SBS TV series, First Australians tells the story that gave birth to the nation.
First Australians is the dramatic story of the collision of two worlds that created contemporary Australia. Told from the perspective of Australia's first people, it vividly brings to life the events that unfolded when the oldest living culture in the world was overrun by the world's greatest empire.
Seven of Australia's leading historians reveal the true stories of individuals—both black and white—caught in an epic drama of friendship, revenge, loss and victory in Australia's most transformative period of history.
Their story begins in 1788 in Warrane, now known as Sydney, with the friendship between an Englishman, Governor Phillip, and the kidnapped warrior Bennelong. It ends in 1992 with Koiki Mabo's legal challenge to the foundation of Australia.
By illuminating a handful of extraordinary lives spanning two centuries, First Australians reveals, through their eyes, the events that shaped a new nation.
First Australians, the SBS documentary directed by Beck Cole and Rachel Perkins, is now showing at Museum of Sydney as part of the permanent display Yura Nura: People & Country.
"First Australians is a history project so important it makes a little history of its own." - Time Out Sydney
"...This collection of essays builds into a fragmented portrait of a modern nation, set against darker themes that lurk within its memory." - Nicolas Rothwell, The Weekend Australian
"First Australians builds a scholarly picture of Aboriginal history so far missing." - Michael Lund, Courier Mail
About the Author
Professor Marcia Langton is one of Australia's most important voices for Indigenous Australia. She first became an Indigenous rights activist at Queensland University in the 1970s, and since then has worked with the Central Land Council, the Cape York Land Council and for the 1989 Royal Commission into Aboriginal deaths in custody. In more recent times, Professor Langton has become an academic and now works at Melbourne University. Professor Langton has received many accolades, including an Order of Australia, and has authored several books. In 1999 Professor Langton was one of five Indigenous leaders who were granted an audience with the Queen to discuss the proposed recognition of Indigenous Australians in the Australian Constitution. She is also a frequent guest on the ABC's Q&A show.
Rachel Perkins is a filmmaker with a thirty year career that spans documentary, TV drama series, telemovies and feature films. She recently directed Mystery Road, a six part one hour series starring Judy Davis and Aaron Pedersen. Previous to that she directed the feature films Jasper Jones, the tele-movie Mabo, the musical hit Bran Nue Dae, the innovative musical One night the Moon and Radiance. Her other television work includes multiple episodes of the award winning Redfern Now. In 2009 she completed the landmark documentary series First Australians on which Marcia Langton was the senior advisor. She founded Blackfella Films, Australia's leading creator of Indigenous screen content, in 1992. Rachel lives between Sydney and Alice Springs, the traditional lands of her people, the Arrernte nation.
Marcia Langton, Rachel Perkins
Published January 2010
Paperback
312 pages 
152mm x 230mm
ISBN 9780522857269
---
Share this Product
---
More from this collection