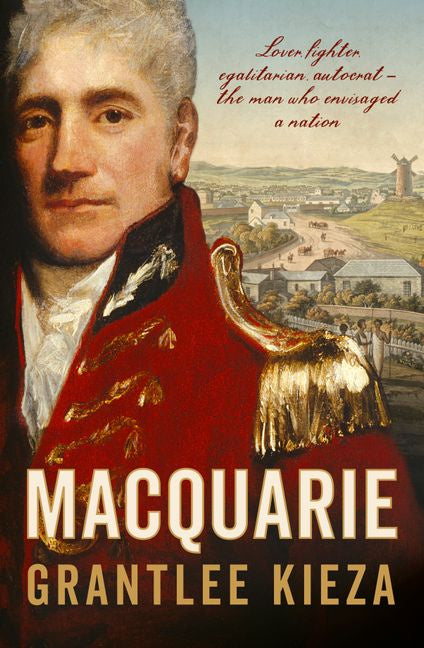 ABC Books
Macquarie Paperback Edition
A lively and engaging portrait of a towering and complex figure of Australian colonial history.
Lachlan Macquarie is credited with shaping Australia's destiny, transforming the harsh, foreboding penal colony of New Holland into an agricultural powerhouse and ultimately a prosperous society. He also helped shape Australia's national character. An egalitarian at heart, Macquarie saw boundless potential in Britain's refuse, and under his rule many former convicts went on to become successful administrators, land owners and business people.
However, the governor's ambitions for the colony (which he lobbied to have renamed 'Australia') brought him into conflict with the continent's original landowners, and he was responsible for the deaths of Aboriginal men, women and children, brutally killed in a military operation intended to create terror among local Indigenous people. So, was Macquarie the man who sowed the seeds of a great nation, or a tyrant who destroyed Aboriginal resistance?
In this, the most comprehensive biography yet of this fascinating colonial governor, acclaimed biographer Grantlee Kieza draws on Macquarie's rich and detailed journals. He chronicles the life and times of a poor Scottish farm boy who joined the British army to make his fortune, saw wars on five continents and clawed his way to the top. Ultimately, Macquarie laid the foundations for a new nation, but, in the process, he played a part in the dispossession of the continent's original people. Lover, fighter, egalitarian, autocrat - Lachlan Macquarie is a complex and engaging character who first envisaged the nation we call Australia.
PRAISE FOR GRANTLEE KIEZA OAM
'Engagingly written ... one of the most nuanced portraits to date' -- The Australian
'Vivid, detailed and well written' -- Daily Telegraph
'A staggering accomplishment that can't be missed by history buffs and story lovers alike' -- Betterreading.com.au
'A free-flowing biography of a great Australian figure' --- John Howard
'Clear and accessible ... well-crafted and extensively documented' -- Weekend Australian
'Kieza has added hugely to the depth of knowledge about our greatest military general in a book that is timely' Tim Fischer, Courier-Mail
Grantlee Kieza
Published March 2021
Paperback
528 pages
234mm x 154mm
ISBN 9780733335921
---
Share this Product
---
More from this collection