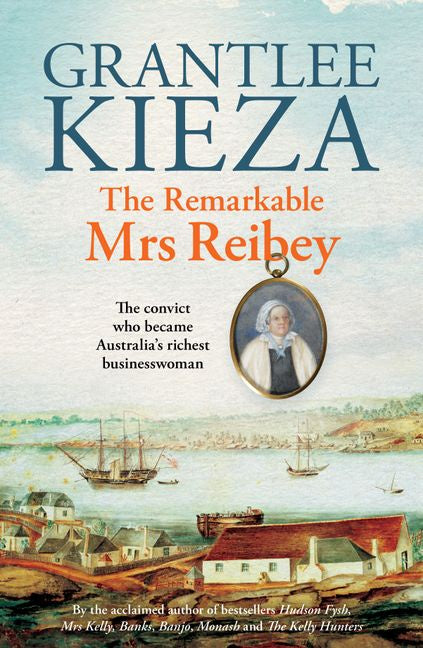 ABC Books
The Remarkable Mrs Reibey
The extraordinary story of Mary Reibey - immortalised on the Australian $20 note, Australia's first female entrepreneur and the most powerful woman in colonial history
In 1791, teenage runaway and sometime horse thief Mary Reibey narrowly escaped the English gallows with transportation to the brutal new penal colony at Sydney Cove.
It was the beginning of a 60-plus year story of bravery and tenacity - within two decades Mary would overcome the stigma of her convict past to become the richest woman in colonial Australia.
Finding love early on her arrival in the new colony, Mary went on to develop a family business which grew to include a fleet of merchant vessels. Widowed at just 33 and with seven children to support, Mary would oversee the growth of that business to an international trading empire and go on to expand what is now Sydney's thriving business district while helping to bankroll many of the colony's first public services.
Shipping magnate, real estate mogul, working mum and philanthropist - this engaging and meticulously researched portrait by the acclaimed author of bestsellers such as Mrs Kelly, Banks, Banjo and Monash reveals a colourful character of remarkable determination and foresight who became one of Australia's first heroes as a brutal, remote British outpost was transformed into one of the most prosperous places on earth.
About the author
Award-winning journalist Grantlee Kieza OAM held senior editorial positions at The Daily Telegraph, The Sunday Telegraph and The Courier-Mail for many years and was awarded the Medal of the Order of Australia for his writing. He is a Walkley Award finalist and the author of twenty-one acclaimed books, including bestsellers Hudson Fysh, The Kelly Hunters, Lawson, Banks, Macquarie, Banjo, Mrs Kelly, Monash, Sons of the Southern Cross and Bert Hinkler.
Grantlee Kieza
Published May 2023
Paperback
368 pages
235 mm x 155 mm
ISBN 9780733341502
---
Share this Product
---
More from this collection