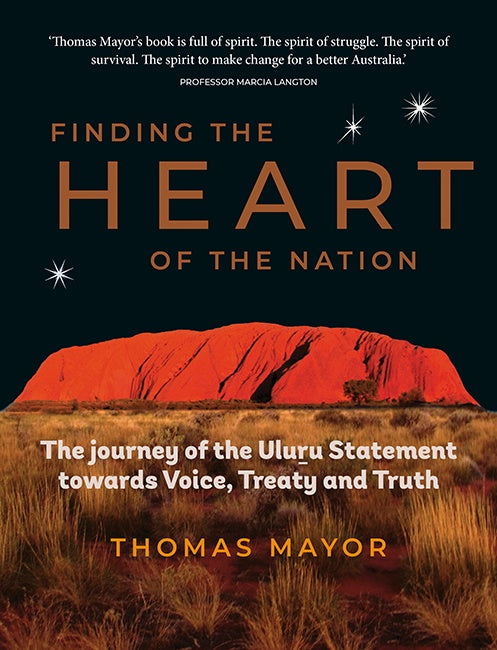 Hardie Grant
Finding the Heart of the Nation
'If Australia were a child, she would be traumatised by a past that she is told to forget. She has witnessed her custodians being murdered and raped, scattered to the margins of society. She suffers for what she has seen. She cannot forget. Her heart beat is fading.
On 26 May 2017, a historic moment at Uluru gave this country hope. Those custodians came together, reached into their own hearts, and gifted us with a roadmap to find the heart of the nation - The Uluru Statement from the Heart. When you read this book, you will be feeling the pulse of this beautiful country, Australia. Finding the Heart of the Nation is a book full of stories about extraordinary people who will take you on an unforgettable journey to a place where we can start a new beginning. This book is a call to action that you will never forget.' – Thomas Mayor, 2019
Through the story of his own journey and interviews with 20 key people, Mayor taps into a deep sense of our shared humanity. The voices within these chapters make clear what the Uluru Statement is and why it is so important. And Thomas hopes you will be moved to join them, along with the growing movement of Australians who want to see substantive constitutional change.
'Thomas's compelling work is full of Australian Indigenous voices that should be heard. Read this book, listen to them, and take action.'
– Danny Glover, actor and humanitarian
Thomas Mayor
Published October 2019
Hardback
264 pages 
210mm x 170mm
ISBN 9781741176728
---
Share this Product
---
More from this collection