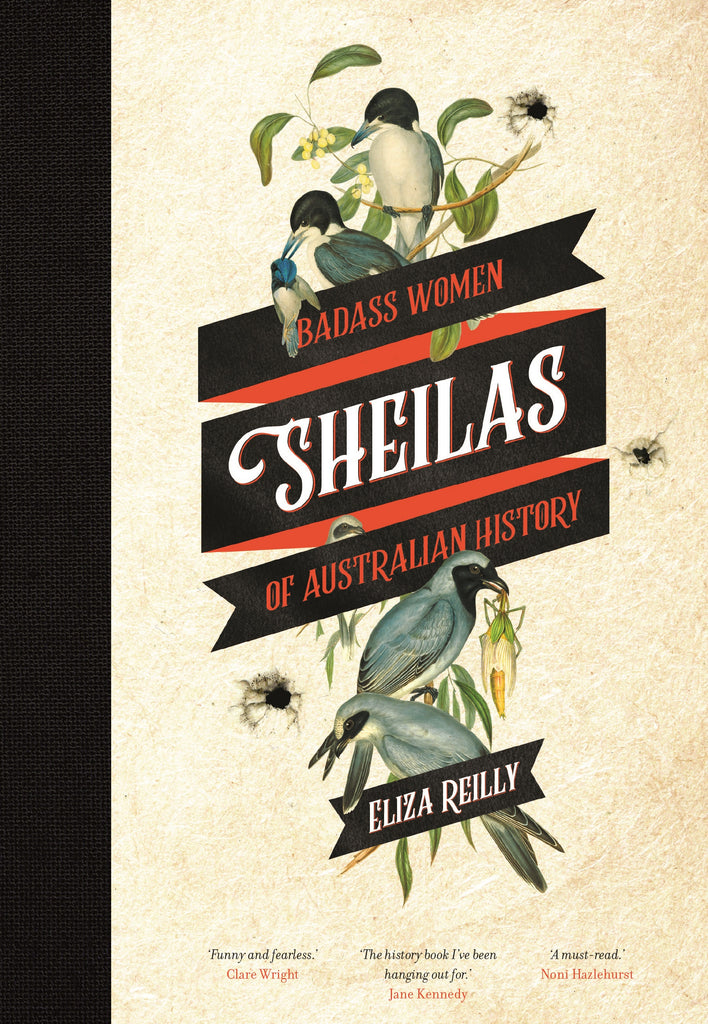 Pan Macmillan Australia
Sheilas: Badass Women of Australian History
An entertaining romp through Australian history that celebrates the badass sheroes we were never taught about in school and who deserve to be printed on our money, goddamn it!
It's been said that 'well-behaved women seldom make history', but the handful of white boys who wrote our history books conveniently left most of them out. Whoops! To rectify this situation, Eliza Reilly is setting out to revive the forgotten stories of the badass Sheilas of Australian history.

Chain yourself to pub counters with the determined Merle Thornton, fight for Indigenous rights alongside Faith Bandler, and lure forlorn sailors with swimmer-slash-mermaid Annette Kellerman. Deceive cranky soldiers with bushranger Mary Ann Bugg, infiltrate Nazi strongholds on the back of Nancy Wake's bike - and much, much more.

Cracking with satirical wit and whole-hearted admiration, Sheilas is a cheeky, funny, inspirational celebration of the tough-titted ladies who hiked up their petticoats and fly-kicked down the doors of opportunity for modern Australia.

Praise for Sheilas:

'A welcome and witty contribution towards redressing the balance - a must-read.' - Noni Hazlehurst

'If Kathy Lette and Monty Python had a love child, that freak would be Eliza Reilly... Sheilas is a glorious romp through the Australian history you didn't learn at school. Funny and fearless, this is the book you'll want your daughters to read and your sons to worship.' - Clare Wright
About the author
Eliza Reilly is a writer, director and performer. In 2018 Eliza co-created the comedy web series SHEILAS with her sister Hannah. Previous to this Eliza wrote, directed and performed in ABC1's GROWING UP GRACEFULLY featuring sketches that have been viewed more than 15 million times on the ABC Facebook page. Eliza co-hosted GIRLS GONE MILD on FBI in Sydney for 5 years and her writing has been featured on ABC's Radio National, Syd Comedy Festival, Sydney Writers Festival and ABC TV's THE CHECKOUT. In 2018, Eliza and Hannah staged their original production of YARRAMADOON, a musical/comedy which sold out Belvoir Downstairs.
Eliza Reilly
Published February 2022
Hardback
208 pages
220mm x 170mm
ISBN 9781760984014
---
Share this Product
---
More from this collection