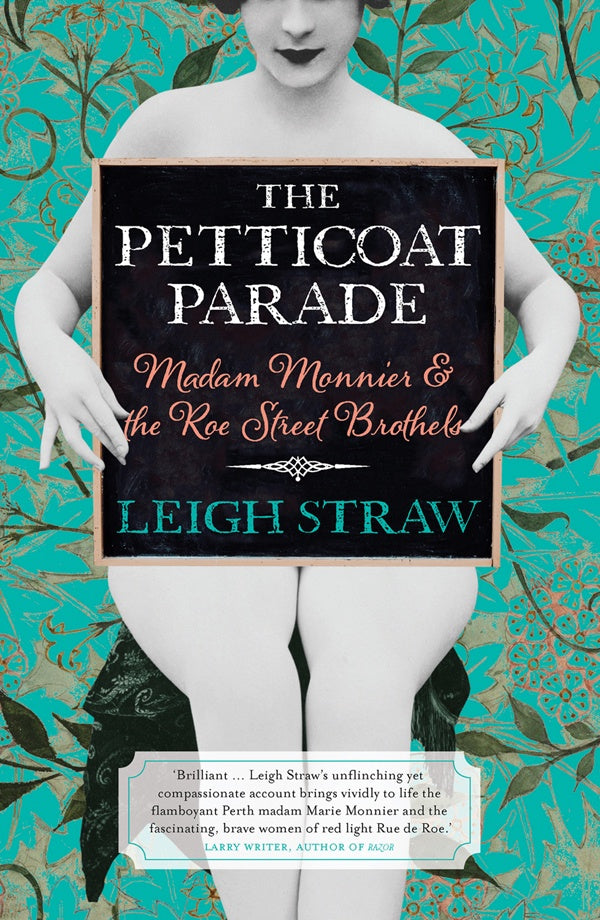 Fremantle Press
The Petticoat Parade: Madam Monnier and the Roe Street Brothels
Josie de Bray was a brothel madam who owned most of Roe Street, Perth from WWI up to the 1940s.
This immensely readable social history uses the life of Josie de Bray as conduit into the lives of her friends and competitors – the many of the women who paraded in their petticoats on the verandas of Roe Street, and who were kept from the public view and were secret keepers themselves in the seamier side of town.
'Brilliant … Leigh Straw's unflinching yet compassionate account brings vividly to life the flamboyant Perth madam Marie Monnier and the fascinating, brave women of red-light Rue de Roe.' Larry Writer author of Razor
'… a thoughtful and deeply researched social history …' West Australian
'Leigh Straw does a fantastic job of linking these long-forgotten places with the streets of modern-day Perth city … The hard-working, driven women that shaped Roe Street may have been forgotten over time, but The Petticoat Parade keeps their legacy alive …' Writing WA
About the author
Leigh Straw is an academic, historian and writer. She is the author of true crime biographies of Australian crime figures Kate Leigh and Dulcie Markham, and Australia's first female detective, Lillian Armfield. Leigh was the joint winner of the 2018 Margaret Medcalf Award for her book After the War: Returned Soldiers and the Mental and Physical Scars of World War I. Leigh Straw is Senior Lecturer in History at The University of Notre Dame Australia.
Leigh Straw
Published August 2021
Paperback
200 pages
234mm x 153 mm
ISBN: 9781760990558
---
Share this Product
---
More from this collection