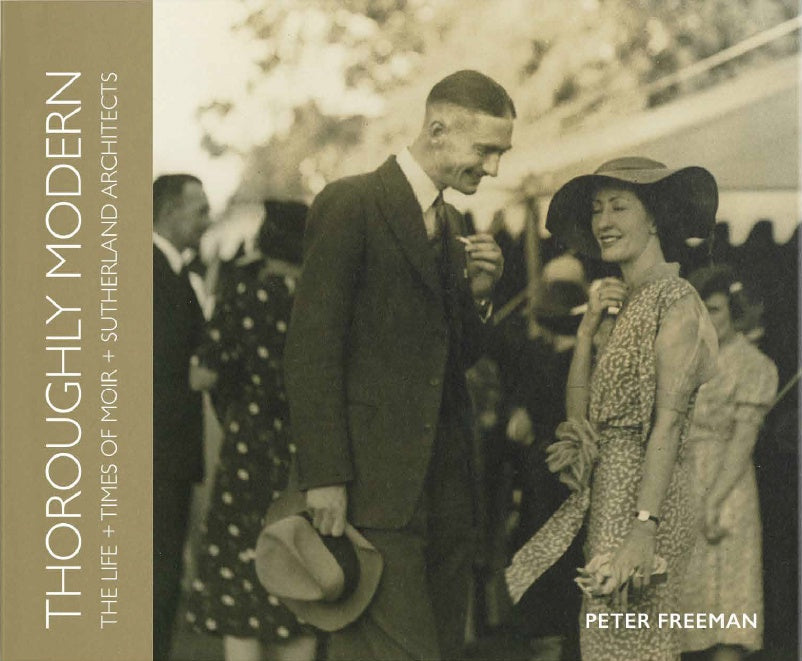 Uro Publications
Thoroughly Modern: The Life + Times of Moir + Sutherland Architects
For a brief period before WWII, Canberra looked set to be defined by the distinctive precepts and forms of 'Functionalism'. 
Following the death of her husband Walter Burley Griffin, in 1937,
Marion Mahony Griffin briefly returned to Canberra. The city was beginning to develop from the plans the Griffins had designed for it two-and-a-half decades earlier, but there were only two buildings in particular she found noteworthy: the Civic Theatre (since demolished) and a small and house and studio at 42 Melbourne Avenue. Both were designed by early modernist architect Malcom Moir.
For a brief period between the end of the Depression and the beginning of WWII, Canberra, one of the twentieth century's handful of new, planned cities, looked set to be defined by the distinctive precepts and forms of 'Functionalism'. It represented a clear break with the architectural conventions of the past, and Malcolm Moir and his partner in life and practice Heather Sutherland were at the forefront of this push as designers of a singularly coherent collection of residential and commercial buildings, spread throughout the fledgling city.   
The richly illustrated narrative of Thoroughly Modern traces the evolution of Moir and Sutherland's architecture, some of the earliest examples of modernism built in Australia, and the subsequent achievements of Ian Slater and Neville Ward, Malcolm's architect partners following Heather's tragic death in 1953. 
This remarkable history examines the national and international contacts and influences that shaped and informed Moir and Sutherland's work and brings together a wealth of primary source material, including exquisitely rendered water colour sketches, architectural drawings, period photography, and correspondence, to paint a picture of the thrilling but at times deeply challenging beginnings of Canberra and modernist architecture in Australia.
About the author
Peter Freeman OAM has dedicated more than four decades to the conservation, documentation and celebration of Australia's architectural heritage through his practice as both conservation architect and historian.
Peter is the author of many books on Australia's heritage and vernacular buildings, including The Woolshed (1980), The Homestead (1982) and more recently The Wall Papered Manse (2014), which was shortlisted in the NSW Premier's Award. He has also worked across the country on a number of heritage conservation projects, including Hobart Town Hall and the Robin Boyd-design Manning Clark House in the ACT.
In 2019, Peter was awarded a medal of the Order of Australia (OAM) for his service to architecture.
Peter Freeman
Published March 2021
Hardcover
224 pages
245mm x 295mm
ISBN 9780648685883
---
Share this Product
---
More from this collection