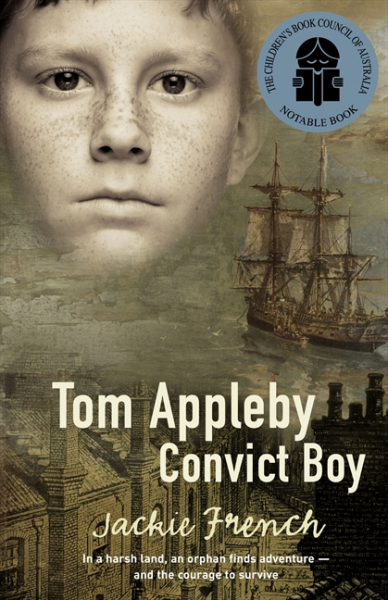 HarperCollins
Tom Appleby, Convict Boy
A story of transportation and life in a new world from Australia's Children's Laureate 
At the tender age of eight, chimney sweep Tom Appleby is convicted of stealing and sentenced to deportation to Botany Bay. As one of the members of the First Fleet, he arrives in a country that seemingly has little to offer - or little that the English are used to, anyway. 

Luckily, not long after Tom's arrival in the colony, the fair and kind Sergeant Stanley decides to take on Tom as a servant. Together Tom, Sergeant Stanley and his son, Rob, build a house, set up an orchard and a vegetable garden for themselves - and thrive, unlike many others in the new colony.

Jackie French weaves Tom's story in with the story of the development of Australia. She tells of a colony that, despite its natural abundance, cannot offer what the colonists want - familiarity. While the people's health is better than it ever was in England, their morale is low as they wait for news from home. 
Reading age: 10+
Jackie French
Published April 2004
Paperback
304 Pages
198mm x 129mm
ISBN: 9780207199424
---
Share this Product
---
More from this collection