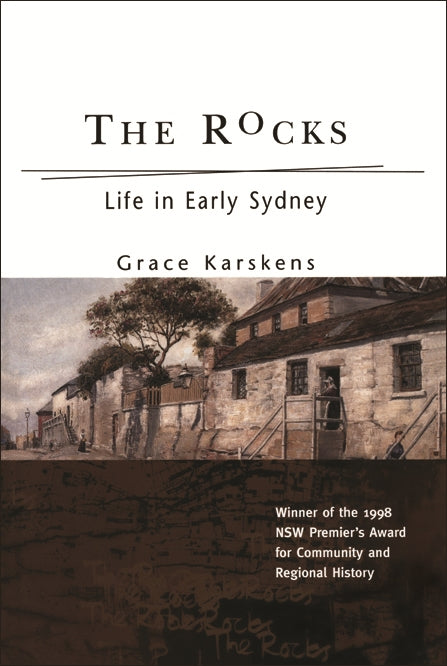 Melbourne University Publishing
The Rocks: Life in early Sydney
A vivid recreation of the origins of the Sydney suburb of the Rocks that illuminates the real lives of the convicts and ex-convicts in the first forty years of white settlement.
The Rocks
is Sydney's earliest surviving neighbourhood. Grace Karskens builds up a vivid picture of the lives of its earliest white inhabitants. A wealth of historical documents, pictures, maps and archaeological evidence allows her to recover the words and gestures, tastes and habits, aspirations and fears, of the dealers, publicans, labourers, artisans, watermen, washerwomen, servants and prostitutes who lived there.
What sort of town did these people make? What did it look like? How did they treat their neighbours? And what of other human relations—how did men and women behave sexually? What did they think was 'moral' behaviour? What were their marriages like? How did they bring up their children?
Grace Karskens shows it was a place very different from the usual images of a brutal 'gaol colony': it was, rather, a pre-industrial town, a face-to-face society, marked more by movement and opportunity, dialogue and negotiation than by coercion, discipline and punishment.
About the author 
Grace Karskens is Professor of History at the University of New South Wales and a Fellow of the Australian Academy of the Humanities and is the author of The Colony: A History of Early Sydney and People of the River: Lost worlds of early Australia.
Grace Karskens
Published June 1994
Paperback 
336 pages
229mm x 154mm
ISBN 9780522848441
---
Share this Product
---
More from this collection